---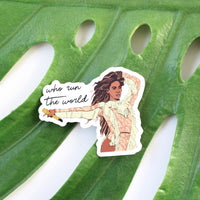 Who run the world? Girls.

Tell the world who's in charge -- and get your decorating on with this vinyl sticker featuring Beyoncé and one of our favorite lyrics. Perfect to slap on your computer, tumbler, car, or virtually any other surface you want to enhance. Note: these stickers are not made to be removable -- don't use on surfaces that are easily damaged.

Features:
-3" width
- Satin UV finish -- this allows for deep, true black without the glare of a glossy finish
- Weatherproof -- won't crack, fade, or peel for 5 years
- Waterproof -- won't come off in the rain, snow, on the side of a boat, or in the dishwasher!